Commercial Carpet Cleaning Wakefield
Northern Shield have years of experience cleaning Commercial Carpets in Wakefield and throughout West Yorkshire.

We know it can be difficult choosing the right company thats why with our reputation we are regularly found on google for the most popular search term Commercial Carpet Cleaning Wakefield.
You can be rest assured you have chosen the right company with an excellent reputation.  We are consistently rated 5-stars across all our social platforms. 
Our team have invested in the correct training and the best equipment available on the market to ensure that we can achieve amazing results for our customers.
Please feel free to call us or complete our contact form and we will get back in touch with you within 24 hours guaranteed.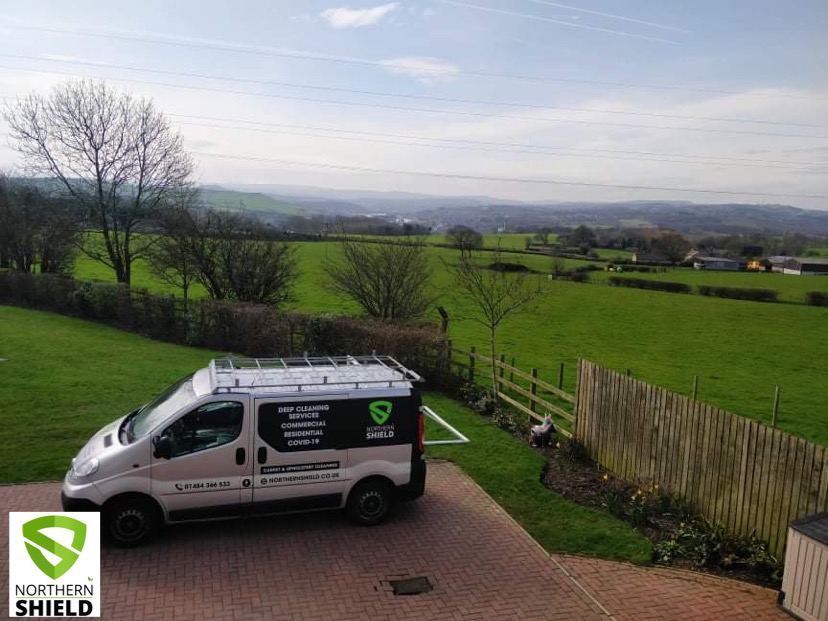 Commercial Carpet Cleaners Wakefield
Get in touch for free quotation and consultancy
Here we discuss 3 common questions from our Commercial customers -
What is Commercial Carpet Cleaning?
You may be surprised to hear that Commercial Carpet Cleaning is actually quite different than cleaning carpets in a residential property. There are many things to consider when it comes to the safety and health of employees in a facility, as well as the environment around them. 
This article will go over some of the main differences between these two types of cleaners so you can make an informed decision about who you want to do your business' carpets. 
A residential carpet cleaning service is usually recommended every 12-18 months  by manufactures compared to Commercial Office Spaces which can be as frequent as ever 6 months.
Commercial Carpet Cleaning is completely different due to a number of factors such the size of the Office or building and type of premises such as Retail or Industrial.  
Here is a shortlist of Commercial premises we regularly clean but limited to:
Have any questions? Don't hesitate to contact us at Northershield Carpet & Upholstery Cleaners Wakefield.  You can complete our online form here.
Why Should You Get Your Commercial Carpets Cleaned
Commercial Carpet Cleaning is a great way to help keep your carpets looking like new and feeling like they're clean.  Professional Carpet Cleaning companies use high-pressure equipment and hot water to remove dirt, stains, allergens, and bacteria from deep inside the fibers of your carpet.  
This thorough process will not only leave your premises smelling fresh but also make it more comfortable for those with allergies or asthma as well as keep you healthier by removing these harmful elements from your workspace. 
It's important to remember that having professional commercial carpet cleaning on a regular basis can prevent future problems and has 3 main benefits: 
Your carpets will look Clean and will also be Hygienically Clean.
It will increase the lifespan of your Carpets.
A healthier indoor environment for you, your staff and visitors.
Make Sure you do the right thing today and contact us to see how we can help transform your business premises. 
Do you still have any questions? 
Don't hesitate to contact us at Northershield Carpet & Upholstery Cleaners Wakefield.  
You can complete our online form here. 
This is probably one of the most common questions we get from businesses that don't have their carpets professionally cleaned regularly. 
If you own a Commercial property, then chances are that it is going to require professional carpet cleaning on a regular basis. Carpets can become extremely dirty and can develop allergens, and odours over time, which can make your building less appealing to your staff and visitors. 
While many people want to know upfront how much something might cost before they do any research about it, knowing what services will be provided before scheduling an appointment with our team helps us provide an accurate price. 
Here we outline 4 points that help us explain how we determine the final price:
Size of the area

– Determining the exact size of the property by providing you with a free quote will help us provide you with an accurate quote.

Access

– This is very simple, we will need good access for our vehicle to park close to your premises to enable us to unload our equipment.  We have a lot of machinery to carry so we would need to confirm that if you have multiple floors that require cleaning we have sufficient access to each floor. 

Type of fibre

–  By doing some simple testing methods we can easily identify the type of carpet you have in your premises.  This will enable us to explain the best cleaning process to use according to the fibre type.

Condition – 

Carpets that have been cleaned on a regular basis make our job easier as the dirt and stains would be minimal.  However, when a carpet hasn't been cleaned in some time then it would be holding more soil, dirt, and stains and often costs a little more to get it looking great again.
Using the information we have outlined above we charge each job according to its surroundings and condition.  As a general rule, we start our Commercial Pricing from £2.50 per square metre upwards. 
Fortunately, there are professionals who can provide this service for your businesses.  If you need commercial carpet cleaning in the Wakefield area contact us today! 
Do you still have any questions? 
Don't hesitate to contact us at Northershield Carpet & Upholstery Cleaners Wakefield.  You can complete our online form here.
Hire us now for the best Commercial Carpet Cleaning in Wakefield