Carpet Cleaning Wakefield
We understand that hiring the right company is a top priority for you and getting the best value for your money together with a high level of service is key. 
Offering the best and affordable Pressure Washing Wakefield services with competitive pricing for your Drives, Patios, and Paths to name just a few.
Northern Shield has an excellent reputation locally and is consistently rated 5-stars which demonstrates we are confident in handling all aspects of your cleaning requirements. 
Call us today.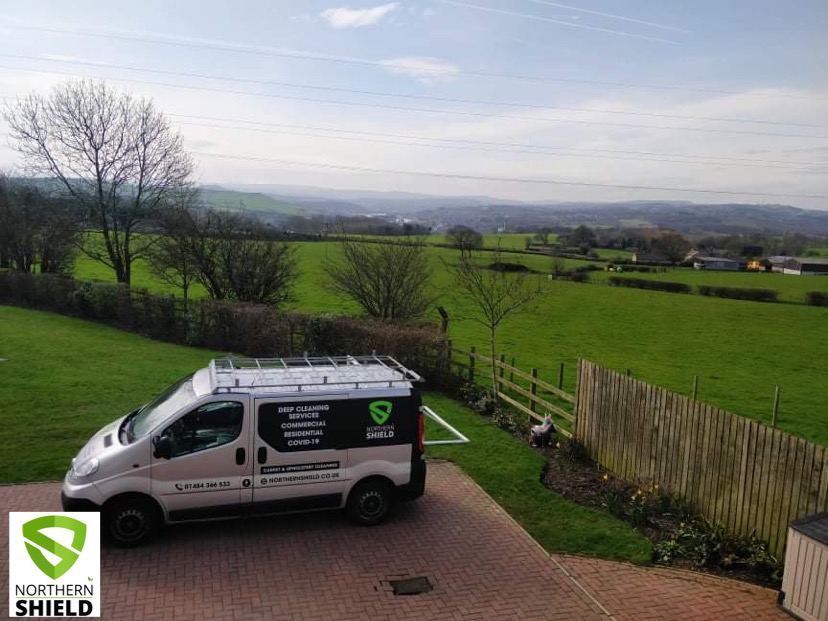 We are Northern Shield, carpet and upholstery cleaning experts covering both commercial and domestic locations all throughout West Yorkshire. All our team members have the best equipment available on the market to ensure that amazing results are guaranteed. We offer a no-rush service, and we love what we do, so we make sure that every one of our customers is 100% satisfied, to date we have only 5-star reviews and ratings!
The first step when cleaning any carpet is the diagnosis, we will test and identify your carpet type to ensure we can offer you the safest process with the best results.
From high-power steam extraction cleaning to delicate dry cleaning, we make sure your carpet is safely cleaned to perfection, without the worry of damage, shrinkage, or discoloration.
Professional Carpet Cleaners Wakefield
Get in touch for free quotation and consultancy
We use some of the best equipment available on the market, which is well over 20 times more powerful and effective than any rental/DIY cleaning machines, and even those of many of our competitors.
Our high-temperature equipment delivers the quickest drying times, in as little as one hour! Our highly trained staff ensure we provide all our customers with the best possible service and results.
We guarantee the most thorough clean you will see in the industry and that your carpets will stay clean for much longer. We rinse with fresh water at high temperatures to make sure nothing is left in your carpet that shouldn't be there, because that would lead to rapid re-soiling or even worse, cause your carpet to wear prematurely.
THE BENEFITS OF HAVING YOUR CARPETS STEAM CLEANED??
The most effective cleaning method
Sanitises and kills bacteria
Removes embedded sand, grit, and silt, which wear your carpet
Removes all carpet-based odours
Carpets stay much cleaner for longer
Makes your home healthier and fresh
How Often Should You Professionally Clean Your Carpets?
If you google Carpet Cleaning Wakefield you will find that we have an excellent reputation locally from our past customers.
As you probably already know carpets need to be professionally cleaned every 6-18 months, depending on your situation, your lifestyle and personal preference could have a huge impact on the duration you have to wait before you search on google for carpet cleaners near me and find the right company for you.
Keep in mind that regular cleaning of your carpet is vital as it will help maintain a pristine appearance. It will also help eliminate dust and smells from your carpets to ensure that your space is hygienic.
Besides, since carpets are not affordable, you will want them to serve you as long as possible. Here are factors you can use to determine how long you will hire Northern Shield carpet cleaning Wakefield.
Vacuuming schedule: Regular vacuuming of your carpets is important as it will help in removing loose particles from the surface and fibres. By doing this regularly at least once or twice a week will help the longevity and appearance of your carpet. As Professional Carpet Cleaners we always vacuum your carpets before we commence the next stage of the cleaning process.
Allergies: If you or someone you live with has allergies, you might have to call in expert carpet cleaners at least once a year. Carpets collect dust and allergens in the air, and after some time, they become airborne every time when someone walks on them. Choosing reputable Carpet Cleaners in Wakefield can help in removing these allergens.
Colour of the carpet: Though light-coloured carpets look great, it is not easy to maintain the appearance. If they are light coloured obviously they will show more signs of dirt and stains compared to darker carpets.
Shoes indoors: Allowing shoes indoors will track dust, dirt, and also small grit particles. Thus, this might cause the carpet fibres to wear out prematurely, especially if you have high traffic. If so, you will need experts to clean your carpets more frequently to ensure they last you for a longer period of time.
How Quickly Will Your Carpets Take To Dry?
Though cleaning your carpet professionally is important, you might be wondering how long it will take for it to dry. Carpet drying time normally takes 3-6 hours, but several factors can increase or reduce the drying period.
Cleaning technique: Northern Shield Carpet Cleaning Wakefield will always use the best method to clean your carpets.  The most common cleaning method is hot water extraction which gives the best clean with quick drying times.  Dry cleaning is another method that can leave your carpets dry within an hour but doesn't provide you with the deepest clean.
Season: It can be of benefit to have your carpets cleaned during the hot months if you are worried about how quickly they will dry. The temperature will help with the drying process. However, during the colder months by simply leaving your windows and doors open for a few hours can also significantly speed up the drying time.
Ventilation: Keeping your windows and doors open will give your house good ventilation. If so, the time that the carpet will take to dry will be much less.  It is advisable not to close any internal doors that would prevent the natural airflow within your home.
Conclusion: Every carpet is different in size, condition, and soiling levels.  We therefore cannot give a definitive and accurate time as to how quickly your carpets will take to dry.  That said, if you follow the advice above your carpets will dry far quicker and on average from our experience less than 6 hours.
Excellent service. Good communication, arrived punctual and they have done a fabulous job. Sofa and chair and pouf cleaned. Looking great, thanks.
honestly cant thank these 2 blokes enough got my carpet looking amazing after a stubborn spill and didn't stop until it was gone . hats off to them deffo will be using them again 👏 thank you
Superb work form these lads today got rid of all the bad stains off our carpet they have giving it a bit of a longer life haha dried the carpet too feels and looks great thanks again we will use again
Just had my stairs cleaned and I am absolutely amazed with the results. It looks brand new 😁 Can highly recommend Northern Shield Services, excellent service and very friendly. Will definitely be using them again 😊😁
Had my stairs and lounge done last Friday, really pleased with it and lovely staff who turned up on time (always a plus)!! Will recommend and use again. Thanks
Excellent service from Northern Shield would highlyrecommend to anybody. Fantastic service, great friendly team who went above and beyond from start to finish. Service made even better by the discount for working for the NHS. Thank you
OUR 10 STEP METHOD TO A PERFECTLY CLEAN CARPET:
Testing the type of materials we are cleaning. This makes sure that no accidents happen. Some materials are sensitive to certain chemicals, which can shrink, dye, and even ruin fabric fibres completely
Vacuum any excess dirt that your regular household vacuum can't pick up
Any noticeable stains removed
Test and spray our high-powered cleaning solution onto your carpets or upholstery, making sure not to oversaturate any materials
This solution is then agitated into your materials to make sure that every area is covered and efficiently cleaned
Extraction of all dirt, pathogens, bacteria, and any excess soap. Did you know one of the main reasons for the re-soiling of these materials is excessive soap left behind after improper cleaning methods?
Deodorise your materials, this will leave your carpets and upholstery smelling amazing
Dry any excess water from anything cleaned with our air movers
Lift all fibres to help to dry time and bring the bounce back into your fibres
After cleaning, we will stain guard your carpets or upholstery to reduce the chances of stains and re-soiling
What surfaces can we clean?
We provide our cleaning services to both residential and commercial customers in Wakefield and throughout West Yorkshire. 
Northern Shield specialise in cleaning the following surfaces but not limited to  – 
Driveways 

Patios 

Paths 

Natural Stone 

Tarmac 

Imprinted Concrete 

External Render

Tennis Courts

Forecourts 

Car Parks 
We can safely wash almost any exterior surface. If you are unsure or want free help and advice just give us a call or alternatively complete our contact form and we will contact you back within 24 hours. 
Hire us now for the best Carpet Cleaning in Wakefield